I remember when I found out I had gotten this job in France: it was after my first (and to date, only) thesis defense, something that had consumed my last semester of college, challenging me in ways I never thought possible. I hadn't slept the night before (nerves!) and had decided to make muffins – a somewhat unconventional addition to these things- to butter-up the faculty. I had leftovers when my presentation was done, so I made my way to the student government office to pawn off the extra muffins, relax, check email, and decompress before I started my last week of undergrad classes.
I remember seeing the subject:
Felicitations
!
Thinking "Is that french?" my heart stopping. opening it. reading the message and a wave of emotions. I began my transition out of collegiate life in that moment, the tears welling up in my eyes from exhaustion and elation, my mind brimming with so many things.
Four months later, I'm starting to pack and say 'goodbyes.' Both are proving more difficult than anticipated.
As I mentioned earlier, I'll be in Rochefort, a little town near La Rochelle, that has very little notoriety except for a brief period in the '70's when it was the location for "Les Demoiselles de Rochefort" starring Catherine Denuve and Gene Kelly. And yes, it really is as amazing as it looks.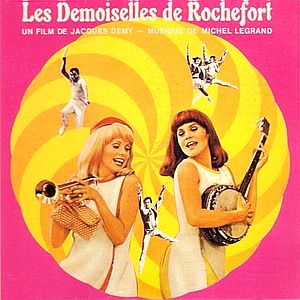 As far as packing goes, my dear friend Sarah Paul passed on her infinite wisdom when I was packing to study abroad in Luxembourg, fall semester of Junior year: pack basics and bring a lot of accessories. Simple enough, right? This hasn't prevented me from unloading my entire closet, making my room unlivable, causing me to move into my little sister's room. In fact, as I write this, I'm sitting in a sea of neutral basics, procrastinating from sifting through the rubble.
I also need to consider what teaching materials I'm bringing with me (menus, magazines, maps, anything fun with english words), and what documents I need to become street-legal in France. Recently, I found on wikibooks a list of things difficult to find in europe:
1. Dental floss
2. Sunscreen
3. Peanut butter
4. Electronic equipment
5. Underwear
6. Contact lens solution
7. Over-the-counter medication (especially antacid)
8. Blu-tack (and it's not blue here, it's yellow - le tac patafix!)
….5.??? I mean, I figured about the peanut butter….